KlimaTicket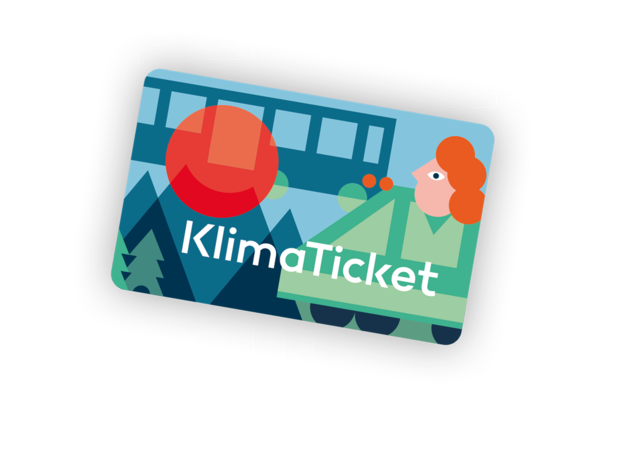 The new KlimaTicket Ö really offers something to everyone - namely everything: All public transport in Austria with a single ticket. Simple and inexpensive. A valuable contribution to the climate of our planet.
What is KlimaTicket?
The KlimaTicket Ö allows you to use all scheduled services (public and private rail, city and public transport) in a specific area for a year: regional, cross-regional and nationwide. It cannot be used on touristic offers like Waldviertelbahn, Wachaubahn, Schneeberbahn, Schafbergbahn, etc.
The KlimaTicket Ö is more than just your ticket for all public transport. It is also the ticket with which we aim to reach the Paris climate goals together. Public transport is the climate-friendly alternative to motorized individual transport.
The more you participate, the better it is for the climate. That is why the KlimaTicket Ö is uncomplicated and affordable.
More infos

In addition to the KlimaTicket Ö, public transport is being bolstered by many other measures: Modernization and continuous expansion to ensure climate-friendly public transport.

In addition to the further expansion of major transport routes, the government program has allocated billions in funds for the further development of local and regional transport, especially in conurbations, and stations are being expanded into "mobility hubs". The Federal
Government is investing in a progressively more dense and comfortable public transport service offering in local, regional and long-distance transport.

With the inexpensive KlimaTicket Ö, all those who commute or travel in Austria can benefit from these investments in the climate-friendly future of the country.
What is the KlimaMonat?
Anyone who chooses the KlimaTicket Ö from 1 July 2022 will receive an additional month (KlimaMonat) as a gift and can therefore use all participating Austrian public transport with a single ticket for 13 months.
The promotion is valid for new purchases of the KlimaTicket Ö until the end of the year. If you already have a KlimaTicket Ö, you will also receive a KlimaMonat for any extension made until 30 June 2023.

With the KlimaTicket Ö you can travel all over Austria for € 1,095 a year with all participating public transport companies. The thirteenth month thus equals savings of just over € 91. With the discounted tickets for young people, senior citizens and people with disabilities available for € 821, the KlimaMonat brings savings of just over € 68. With the nationwide KlimaTicket Familie available for € 1,205, savings amount to just over € 100.
How much does KlimaTicket Ö cost?
The KlimaTicket Ö costs € 1.095.
Travellers aged 25 or younger, or 65 and older and disabled travellers pay € 821.
Ticket category
Regular
KlimaTicket Ö Classic
€ 1.095
KlimaTicket Ö
Youth/ Senior/ Special
€ 821
KlimaTicket Ö Family
€ 1.205/ € 931
(Classic Family/ Youth, Senior, Special Family)
The KlimaTicket Ö is valid for a whole year from a date oft he purchaser's choice and can be purchased a maximum of one month in advance.
In combination with the KlimaTicket Ö Classic, KlimaTicket Ö Youth, KlimaTicket Ö Senior and the KlimaTicket Ö Special, you can take up to four children between the ages of six and 15 with you for a one-time family supplement of € 110 per year. A family certificate is not required for this. The children do not receive their own ticket and therefore require a valid ticket from the respective transport company if they are travelling alone. Each person travelling alone with children must have their own KlimaTicket Ö with a family supplement. If several ticket holders are travelling together with up to four children, one KlimaTicket Ö with a family supplement is sufficient. Children up to the age of 5 still travel free of charge - in accordance with the relevant transport company's terms and conditions.
Railway companies also offer special packages for seat reservations or first class upgrades.
When and where is the KlimaTicket Ö on sale?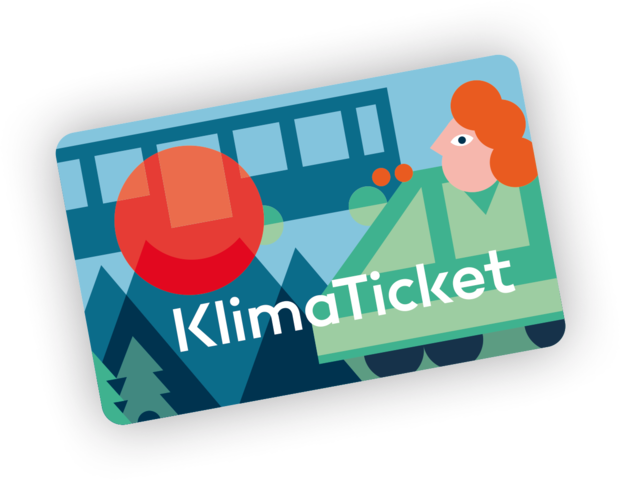 You can purchase KlimaTicket Ö online.
Or directly at the service centres of all distribution partners.
To purchase the KlimaTicket Ö at a service centre you need the following documents:
Photo
Proof of age (KlimaTicket Youth/ Senior)
Authorization document (KlimaTicket Special)
Military service ID, provisional replacement military service ID or call-up order, each in conjunction with the info sheet for the Austrian Armed Forces Climate Ticket (Austrian Armed Forces Climate Ticket)
Notification of assignment, notification of determination or community service card (KlimaTicket Ö community service)
Please note that when purchasing online, the earliest possible start of validity of your KlimaTicket Ö is 15 days after purchase. When purchasing at a service centre, this deadline does not apply and the validity start date can already be the purchase date. In both cases, however, the KlimaTicket Ö can be purchased a maximum of one month in advance.
When will the regional tickets become available?
The responsibility for the implementation and design of regional KlimaTickets lies with the respective federal state. It is not yet possible to tell when and in what form the tickets will be for the federal states.
Frequently asked questions