Latest informations
Klimaticket Now.
For all the people who want to do something about climate change now. You can travel throughout Austria with the Klimaticket Now for a year from 26 October onwards. Protect the environment and help us take a big step towards creating a greener future for everyone. Easy and inexpensive.
What is Klimaticket Now?
Klimaticket Now isn't just a ticket. It also enables us to collectively achieve the Paris climate targets and safeguard our future because public transport is a climate-friendly alternative to private motor vehicle transport.
The ticket can be used on any scheduled services (public and private-sector rail services, urban passenger services and integrated public transport services) in a specific area: regional, inter-regional and Austria-wide. It cannot be used on Wiener Linien, Wiener Lokalbahnen, Raaberbahn (Wien Hauptbahnhof-Deutschkreutz), NÖVOG services or regional buses in the VOR region.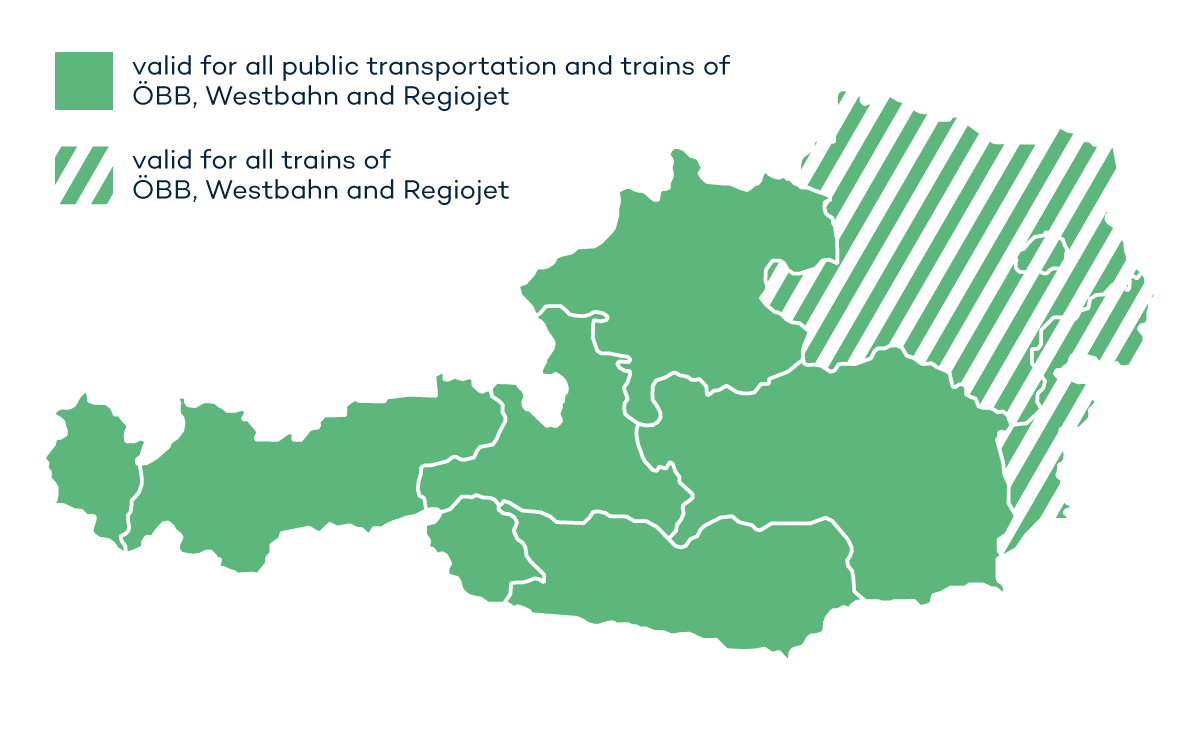 The more you use it the greater the benefits for the climate, our future and our conscience. Klimaticket Now isn't just easy to use, it's also affordable.
More infos

Public transport is being optimised through a range of other projects in addition to Klimaticket Now. For example, we are making it greener through modernisations and continuous optimisations.

And that's not all. We are strengthening the major public transport links and upgrading stations as central elements of our public transport system. The central government is continuously expanding the public transport service offering to support local, regional and long-distance services. In this way we are helping the Klimaticket and its users to achieve their goals.

The low-cost Klimaticket Now enables all commuters and travellers in Austria to benefit from these investments in making the country climate-fit for the future. The only services it cannot be used on are the Wiener Linien, Wiener Lokalbahnen, Raaberbahn, NÖVOG services and regional buses in the VOR region.
Why has Klimaticket Now been launched?
Klimaticket Ö, which will be valid for all public transport services in Austria, is a major common goal for a greener future. And to achieve major common goals we need people who are willing to lead by example. The city and regional administrations, transport and tariff associations, transport companies and ministries have to agree on a common strategy. Klimaticket Now allows all the people who are willing to lead by example to do just that.
This ticket is accepted by all states and partners that have already signed up to a common strategy. At the same time, we are pulling out all the stops to reach agreement with all transport associations on the Klimaticket Ö.
When the Klimaticket Ö is ready for launch, the Klimaticket Now will automatically convert to a new Klimaticket Ö. Klimaticket Now can be purchased at a discount of € 146 and the discounted tickets are € 122 cheaper.
How much does Klimaticket Now cost?
With the early bird price the Klimaticket Now costs € 949 instead of € 1.095.
Travellers aged 25 years or younger, or 64 years and older (or 65 as of 1 January 2022) and disabled travellers pay only € 699 instead of € 821.
Ticket category
Early Bird*
Regular
Klimaticket Now Classic
€ 949
€ 1.095
Klimaticket Now
Youth/ Senior/ Special
€ 699
€ 821
Klimaticket Now Family
€ 1.059/ € 809
(Classic Family, Youth, Senior, Special Family)
€ 1.205/ € 931
* The Early Bird price is valid during the presale period from 1 October to 31 October.
The ticket is valid for one year. For a one-time additional charge of € 110 the ticket holder can take up to four children between the ages of 6 and 15 with them. The children do not have to be related to the Klimaticket Now holder.
Children up to the age of 5 still travel free of charge - in accordance with the relevant transport company's terms and conditions. Railway companies will also offer special packages for seat reservations or first class upgrades.
When and where is the Klimaticket Now on sale?
You can purchase Klimaticket Now from 1 October online.
Or directly at the sales offices of all partner companies that sell the Klimaticket Now."
It is valid from a date of the purchaser's choice, but not before 26 October.
When will the regional tickets become available?
The responsibility for the implementation and design of regional Klimatickets lies with the respective federal state. It is not yet possible to tell when and in what form the tickets will be for the federal states.
The sale of the Klimaticket OÖ will start with the Klimaticket Now on 1 October.
Frequently asked questions